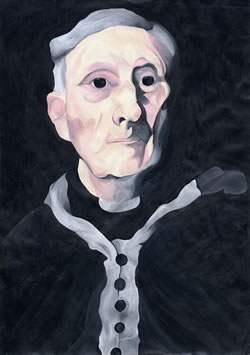 A Book By Ron Wawman..


The story of The Squarson of Lewtrenchard
As revealed in
The Diary of Sabine Baring-Gould
Grosvenor House Publishing Ltd
ISBN No: 978-1-907211-03-4
This book includes a full transcription of the diary of the Rev. Sabine Baring-Gould, together with family bible entries and selected information gleaned from notebooks and letters, as well as Ron's own conclusions on many aspects of Sabine's extraordinary life.
In the late 19th century, the Rev. Sabine Baring-Gould, squarson of Lewtrenchard and man of many parts, was recognised as one of the country's top ten authors. Today he is mostly remembered for his famous hymn, Onward Christian Soldiers, and, in popular publications, he is often dismissed as an irascible eccentric who did not know his own children, married a mill girl half his age and kept a pet bat! Although he wrote two volumes of Reminiscences these are mostly about his ancestors, places he visited and people he met. Very little is about himself and his family. Until recently the difficulties facing would-be biographers have been compounded by a dearth of unpublished material in the shape of diaries and letters.
With the discovery of a twenty-year diary covering the period when Sabine was at the height of his powers all that has changed. Ron Wawman's transcription and researches have enabled him to put forward some exciting, new perceptions of the life and character of this important Devonian.
These perceptions gave Ron, a retired psychiatrist cum local historian and playwright, the story line that had previously eluded him and he was then able to write the script for the biographical Community play Like A Buoy that in 2007 was successfully produced in West Devon by Red Spider Company.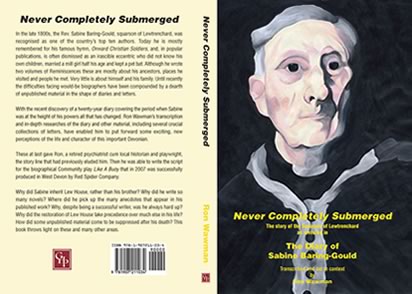 Now the book, Never Completely Submerged, looks at Sabine's life in greater depth than could ever be possible in a play.
Why did Sabine inherit Lew House, rather than his brother? Why did he write so many novels? Where did he pick up the many anecdotes that appear in his published work? Why, despite being a successful writer, was he always hard up? Why did the restoration of Lew House take precedence over much else in his life? How did some unpublished material come to be suppressed after his death?
This book throws light on these and many other areas.
---
Another Diary, a Notebook, Letters and a Previously Unpublished Book:
Never Completely Submerged, covering the years 1880 to 1899, was the first part of a tetralogy of important primary source material to be transcribed, researched and annotated by Ron Wawman. The other three parts are:
A notebook kept by Sabine during his formative adolescent years - 88 pages of A4
An earlier diary notebook from around the time of his ordination - 147 pages of A4
Some substantial collections of letters some of which date from his last embittered years. These are presented in three parts under the overall title:
The Last Thirty Years of the Life of Sabine Baring-Gould as revealed by correspondence with others -
273 pages of A4
Part I: Correspondence with Sabine's eldest daughter, Mary Dickinson
Part II: Correspondence with Evelyn Healey
Part III: Sabine's Last Years. An Overview
A previously unpublished book 'The Growth Of Religious Convictions' written during the last years of Sabine's life and now transcribed, annotated and introduced by Ron Wawman.
All of this new material adds substantially to our understanding of Sabine Baring-Gould but none of it lends itself easily to publication in book form. Ron has therefore decided to publish it online. Sabine's adolescent notebook and the early diary notebook, both unabridged and fully annotated has been accessible on this website, and nowhere else, since December 2010. In May 2011 these were joined by the letter collections.
1. To browse Sabine's Adolescent Notebook, c. 1849 to 1851, click the link.
2. To browse Sabine's Diary Notebook, 1862 to 1868, click the link.
3. To browse The Last Thirty Years of Sabine's Life click the relevant links;
4. To browse Sabine's previously unpublished book please click the following link:
The Growth of Religious Convictions, by Sabine Baring-Gould. Edited by Ron Wawman.
See below for shorter but still important items of biographical supporting material..
<
Back to top of page
---
Biographical and Other Supporting Material:
In the process of forming his views on the life and character of Sabine Baring Gould Ron Wawman has drawn extensively on other material alongside the Diary of Sabine Baring-Gould. Most of this material is unpublished. Some has been published but is not readily available. Seven examples, introduced and annotated by Ron, can now be seen on this website:
Wafted Away; First published as a pamphlet in 1876.
Some Early Family Correspondence; Unpublished.
Bernard Heudré, editor, Souvenirs et observations de l'abbé François Duine, 2009 Presses Universitaires de Rennes. pp 113-9, Section on Sabine Baring-Gould, translated by Alan Payne.
Joan Priestley, c.1956: Memoir Notes of Joan Priestley .
Joyce Rawstone, 1992: Recollections of my Grandfather, Sabine Baring-Gould, my Grandmother and my early childhood.
A Comprehensive Catalogue of 198 Letters to the Rev. Sabine Baring-Gould from Various Publishing Houses 1891-1906.
Sabine's Common Place Book: A Comprehensive Catalogue of items found in what was in a scrapbook kept by Sabine between 1887 and 1919.
<
Back to top of page